After four years of upgrading, Beijing Gaobeidian Sewage Treatment Plant and Xiaohongmen Sewage Treatment Plant have been put back into operation, and the water quality has reached Class IV of surface water. Among them, Gaobeidian Water Reclamation Plant has a daily treatment capacity of 1 million tons, becoming China's largest-scale water reclamation plant.
High-standard UF membrane becomes the "biggest contributor"
The Gaobeidian Sewage Treatment Plant upgrading project was commenced in 2013, and put into trial operation in Jul., 2016.
The advanced treatment on reclaimed water here adopts a "denitrifying biological pool + UF membrane" process, i.e. secondary effluent is put into denitrifying filter pool for denitrification and dephosphorization before being filtered through the UF membrane, which can effectively remove the suspended particle matter, algae, bacteria, viruses, colloids, proteins and other insoluble pollutants. After this stage of purification, the effluent water will go through ozone oxidation bleaching and ultraviolet disinfection, and then it can stay in the clean water tank for further use.
This sewage treatment technology may sound complex, however, the most important component is its unique "UF membrane".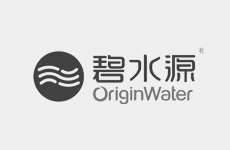 In the clean and tidy Gaobeidian Water Reclamation Plant, rows of white UF membranes are orderly and neatly arranged, and this is the key factor in the successful advanced treatment of reclaimed water.
According to Li Yuewei, technical leader of advanced treatment operation at Gaobeidian Water Reclamation Plant, the UF membrane technology is independently developed by high-tech environmental protection enterprise OriginWater, "the technology is at the world leading level and brings a technical revolution to the reclaimed water treatment field, and we all regard it as the biggest contributor to the success of our water reclamation plants". The original wastewater is now processed instantly into clean reclaimed water, and is then sent to the users through a reclaimed water pipe network; the precious water resources will accomplish its new "mission", once again.
Reclaimed water is clear and odorless, serving multiple purposes
Like Gaobeidian Water Reclamation Plant, Xiaohongmen Sewage Treatment Plant also uses OriginWater's UF membrane as a key technology of advanced treatment. It is reported that Xiaohongmen Sewage Treatment Plant will become the second largest water reclamation plant in Beijing, second only to Gaobeidian Water Reclamation Plant. After the upgrading project, its daily treatment capacity is 600,000 m³, nearly 1/3 of the water storage capacity of Kunming Lake. At the same time, the reclaimed water produced with higher quality can be used for many purposes.
It was reported that, in 2014, about 70,000 m³ secondary effluent from Xiaohongmen Sewage Treatment Plant was supplied to BOE 8.5-generation line each day for manufacturing LCD screens; in the past, such wastewater needed to go through secondary purification in the plant, but now, after upgrading, the high-quality reclaimed water from Xiaohongmen Sewage Treatment Plant can be directly put into production and use. In terms of the human senses, the reclaimed wastewater looks clearer and hardly has any smell.
It is understood that, at present, reclaimed water after advanced treatment is mainly used for Beijing's urban scenic environment use, industrial consumption, and municipal miscellaneous use. Furthermore, it can greatly save high-quality tap water resources, and protect and improve the water quality of urban landscapes.
According to the Master Plan for Beijing Municipality (2004-2020), by 2020, the whole city's reclaimed water utilization will reach 0.8 billion m³, and reclaimed water will gradually become the main source of water for urban greening, river & lake ecology, street flushing, domestic miscellaneous uses and industrial cooling, and will replace part of water source for agricultural irrigation.