Advantage
High effluent quality: High filtration precision of membrane, effluent turbidity lower than 1NTU; no aeration in the membrane tank, low concentration of TN in effluent;
Low operation energy consumption: Self-motion and anti-fouling, no aeration blower, vibration energy consumption ≤ 0.03kW·h/m³ based on product water;Easy operation and maintenance No hair accumulation on the membrane unit,easy to be cleaned;
Long service life: Due to the membrane producing technology of fiber reinforced composite, the tensile strength of the membrane is more than 200N and the life is more than 5 years;
Flexible regulation: Regulate the operating frequency in real time according to the actual operation conditions;
Environmental friendly: No aeration noise on the site.
Specification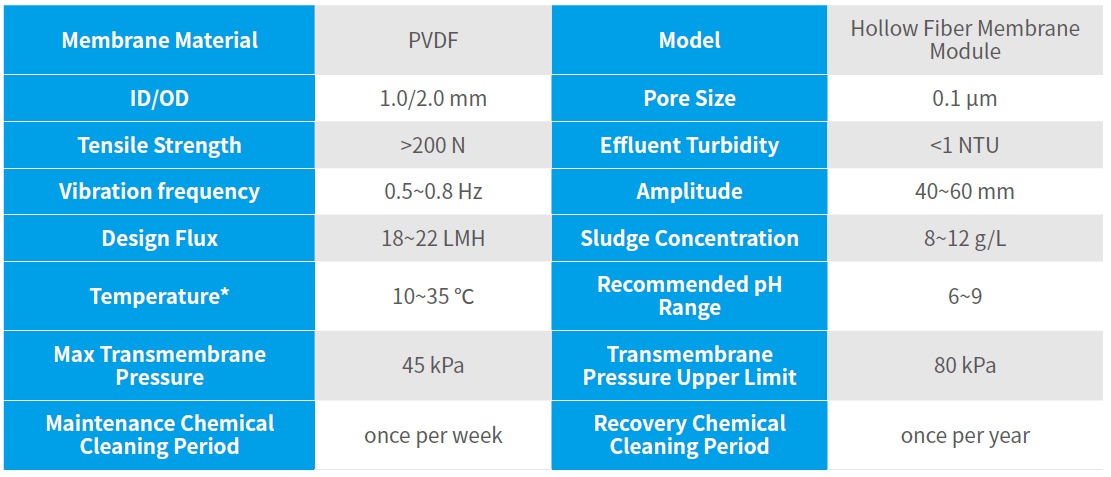 Note: *Design flux is determined by the water temperature and water quality conditions.


Notes: (1) *Treatment capacity with water temperature of 20℃ and sludge concentration of 8~12g/L;
(2) The unit body material is SUS304;
(3) Special specification and material can be customized.