Advantage
High effluent quality: Uniform membrane pore size distribution, high filtration precision, effluent turbidity lower than 1NTU;
Low operation energy consumption: Due to slot-type gas collecting pulse aeration and three-position water collecting technology, the energy consumption by air-sweeping is 0.1kW·h/m³ based on product water;
Strong fouling resistance: Due to the special cross-sectional structure with gradient network and interactive and high shear aeration structure of the unit, the fouling resistance is improved and the chemical cleaning efficiency is high;
Small footprint: The membrane packing density in the membrane tank reaches 350㎡/㎡ and the hydraulic retention time is less than 1h;
Long service life: Due to the membrane producing technology of fiber reinforced composite, the tensile strength of the membrane is more than 200N and the life is more than 5 years.
Specification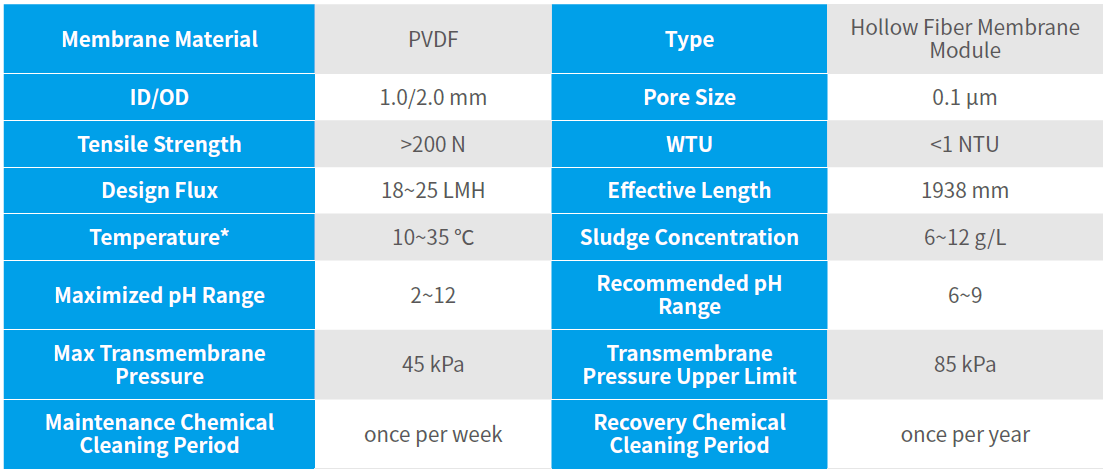 Note: *Design flux is determined by the water temperature and water quality conditions.

Notes: (1) *Treatment capacity with water temperature of 20℃ and sludge concentration of 8~12g/L;
(2) The unit body material is SUS304;
(3) Special specification and material can be customized.