Advantage
High retention rate: High removal rate for small organic compounds, eg., insecticide, herbicide etc., as well as bacteria and viruses ,etc;
High recovery rate: The water recovery rate of the system reaches as high as 85%, and is above 10% more than the traditional low-pressure RO membrane;
Low operation pressure: The system operation pressure is 0.4~0.7MPa and is above 30% lower than the traditional low-pressure RO membrane;
Low operation cost: Long cleaning interval, less chemical consumption and less maintenance cost.
Specification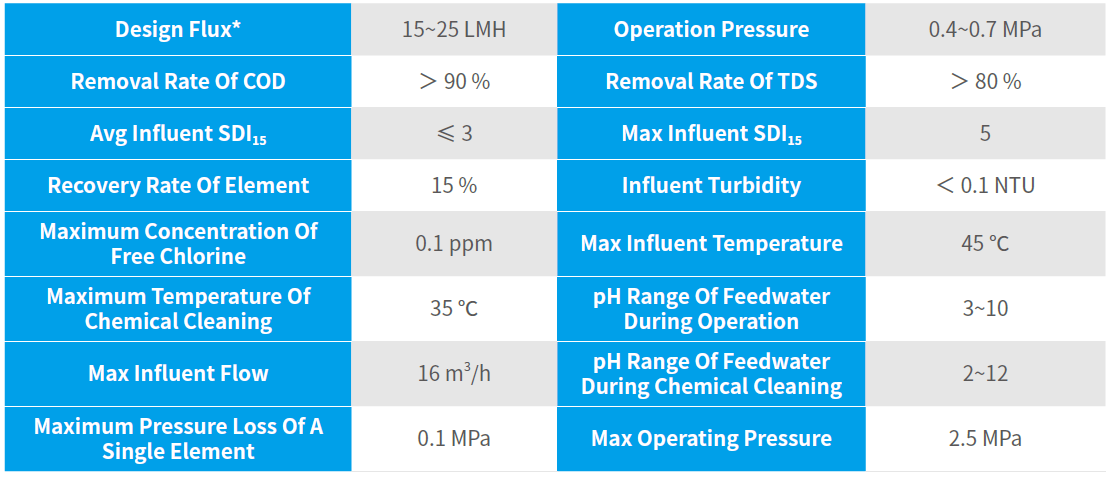 Note: *Design flux is determined based on the water temperature and water quality conditions.

Notes: (1) *The water permeate flow has ±15% fluctuations according to the actual condition;
(2) Test conditions: 2,000 ppm NaCl or MgSO₄, 70 psi (0.48MPa), 25℃ , pH=7.5~8.0, recovery rate of 15%.